Pittsburgh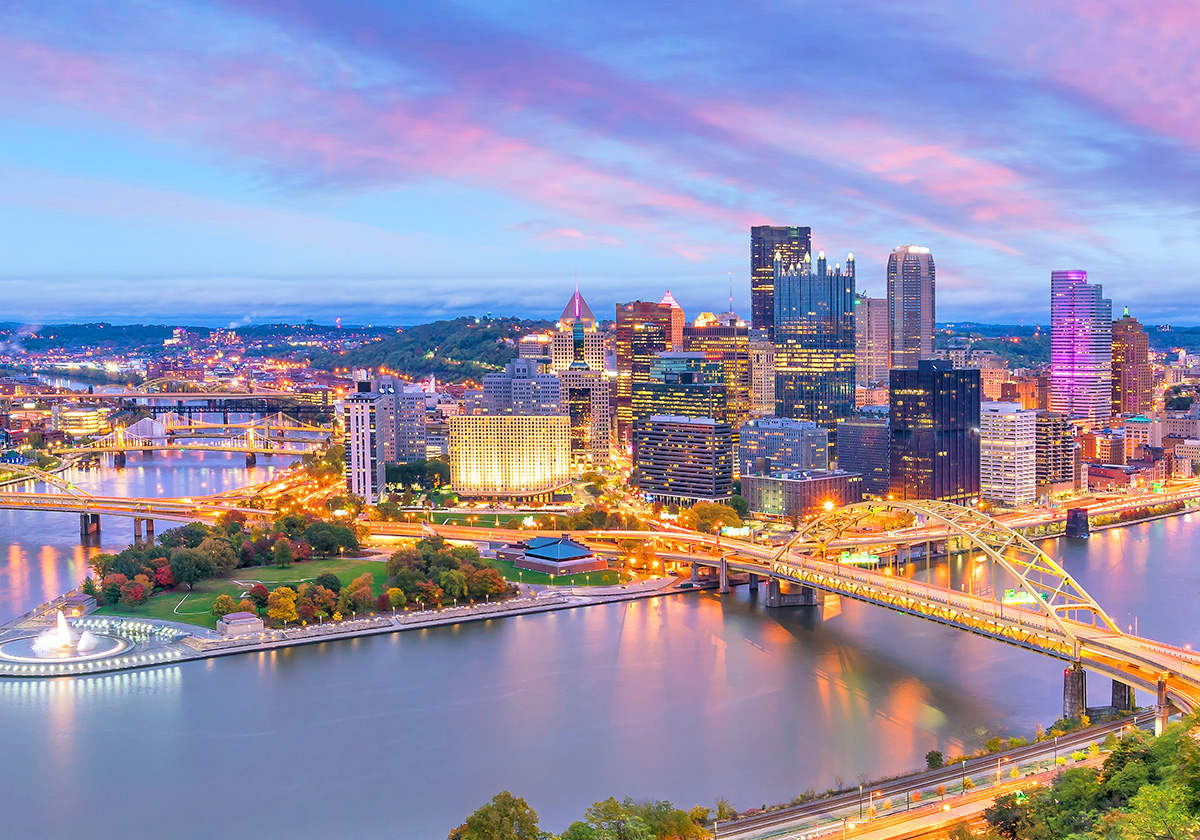 A staple of Pittsburgh for decades, three district energy systems serve customers throughout the city with heating, cooling, and electricity
Frequently Asked Questions
Cordia Pittsburgh Uptown
Cordia Pittsburgh Uptown is a state-of-the-art district energy facility and distribution system located east of downtown Pittsburgh in the emerging Lower Hill district built to serve UPMC Mercy Hospital as its initial anchor customer. Cordia financed and built the facility, which it now owns and operates. Construction on the asset began in Q3 2016, and the plant went online in early 2018.
A district energy solution initially appealed to UPMC due to the system's inherent sustainability and cost-effectiveness. As an elite health care facility with a Level I Trauma and Burn Center, a Comprehensive Stroke Center, and hundreds of beds for inpatient care, the hospital cannot afford to go without power or climate control. By providing the hospital with the reliable and resilient steam, chilled water, and backup power it requires, we allow the hospital to focus on providing its community with life-saving care.
In the near future, Cordia intends to interconnect Gibbon Energy and Cordia Uptown systems. In doing so, both facilities will be able to offer increased efficiency and backup generation, ensuring that Duquesne University and UPMC Mercy Hospital's needs will continue to be satisfied if either plant needs to undergo maintenance or upgrades.
System Profile
System Type
District Energy – Steam, Chilled Water, and Backup Electricity
Total Capacity
150,000 lbs/hr steam, 8,250 tons chilled water, 10 MW emergency power distribution
Distribution
1,145-ft steam and hot water distribution system, 1,950-ft chilled water distribution system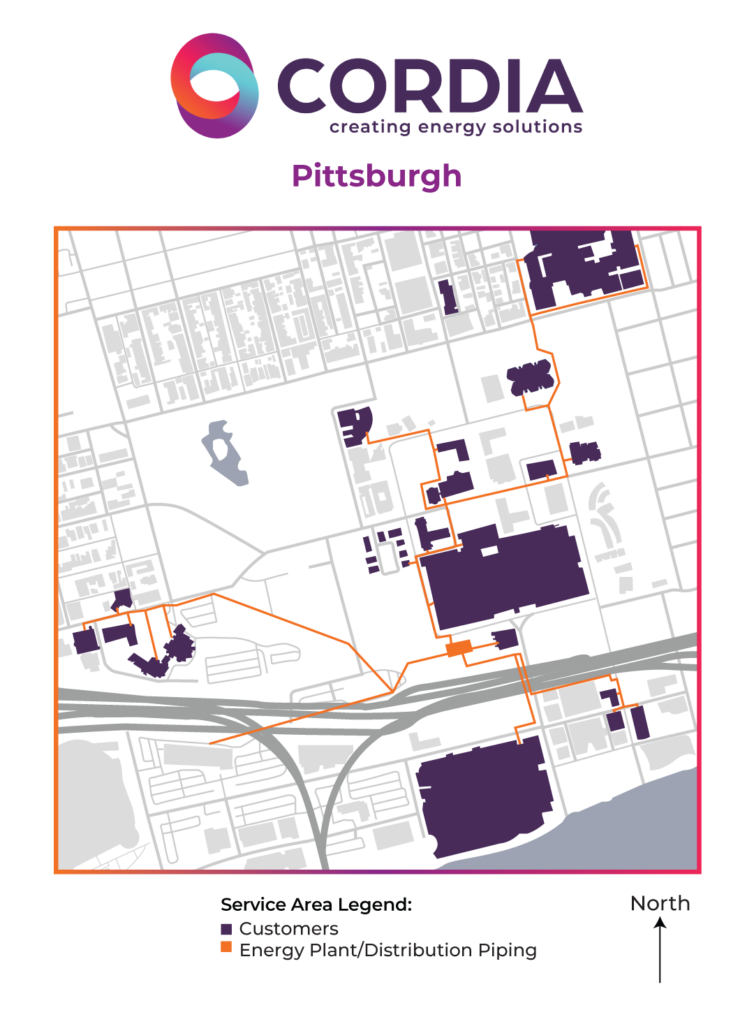 ---
Gibbon Energy
Cordia acquired Duquesne University's on-campus energy system by showcasing unique value-adds for the university which other firms could not achieve. Cordia's development team realized that the system had excess capacity and was able to highlight its strength in the region around the university by underwriting this excess capacity and monetizing it for the benefit of the school.
The first combined heat and power plant in western Pennsylvania, Gibbon Energy is a crowning achievement in the University's decades-long pursuit of greater sustainability. The system was recognized for its ground-breaking innovation when it initially came online in 1997.
The plant generates 80 percent of the campus' electricity needs, approximately 5 MW, using combined heat and power technology. Its high-efficiency, low-emissions boilers, high-efficiency chillers, and ice thermal storage are capable of producing 181,000 lbs/hr of steam and 7,150 tons of chilled water in the process. The steam and chilled water is directed through a distribution network to 46 campus buildings. The plant can also isolate from the grid, if needed, allowing the campus increased energy self-sufficiency.
System Profile
System Type
District Energy – Steam and Chilled Water
Total Capacity
181,000 lbs/hr steam, 6,150 tons chilled water, 6,000 tons ice storage, 5.5 MW electricity generation
Distribution
Distribution system owned and maintained by Duquesne University
---
Pittsburgh North Shore
Built in 1969, Cordia's North Shore Plant has been a vital part of Pittsburgh's embrace of sustainable energy.
The plant includes two interconnected steam and chilled water assets in an area anchored by the Carnegie Science Center, the Andy Warhol Museum, PNC Park, and Allegheny General Hospital. The system has provided services to its customers with a 99.99% reliability rating for nearly 50 years. A longstanding member of Pittsburgh's North Side community, the plant and its staff have been involved with numerous charity groups and community organizations over the years, and they continue to do so as Cordia's presence in Pittsburgh expands.
System Profile
System Type
District Energy – Steam and Chilled Water
Total Capacity
297,000 lbs/hr steam, 25.5 MMBTU/hr hot water, 14,234 tons chilled water
Distribution
13,200-ft steam distribution system, 13,200-ft chilled water distribution system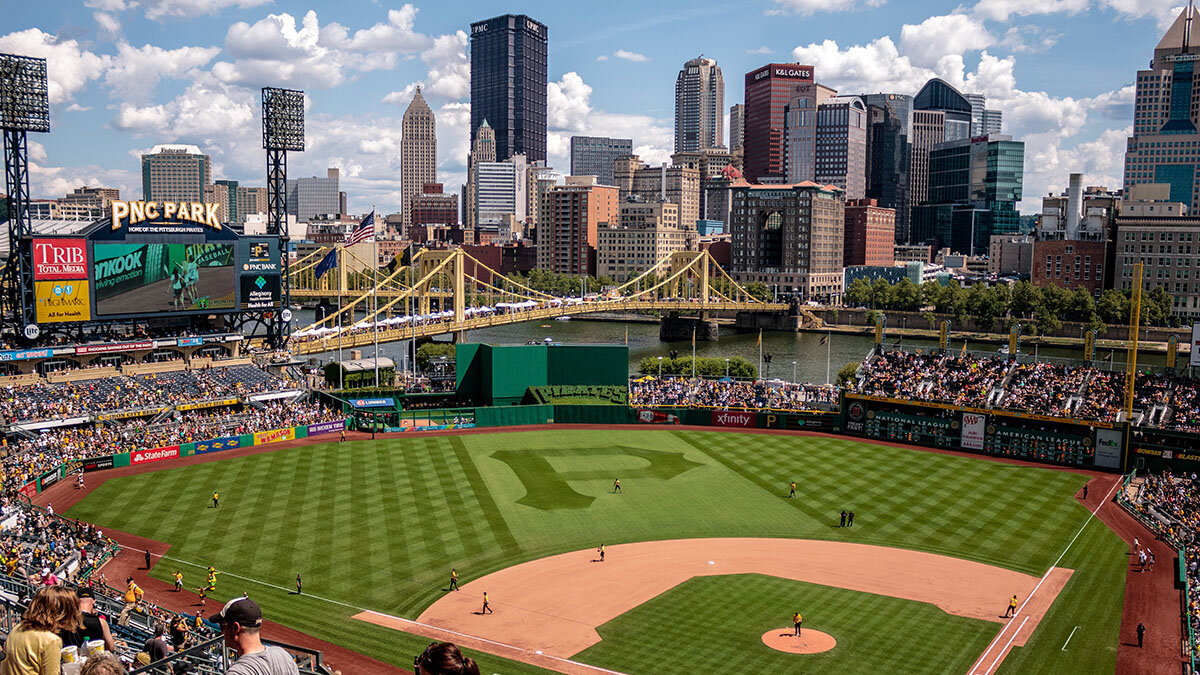 notable Customers
PNC Park
Allegheny General Hospital
Carnegie Science Center
Contact Us
To learn more about our company and our services, fill out this form. We're excited to hear from you.
Cordia Pittsburgh
1339 Our Way,
Pittsburgh 15219
---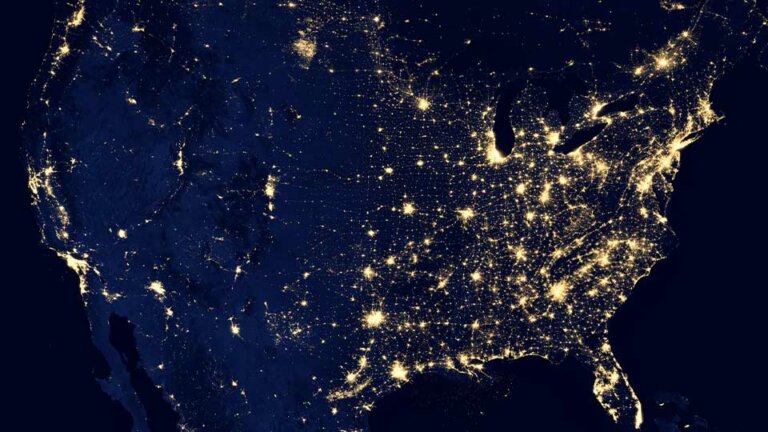 Other Networks
Each of our systems is optimized to serve its end users' needs and move closer toward their goals.