Environmental, Social and Governance (ESG) Report
Environmental Responsibility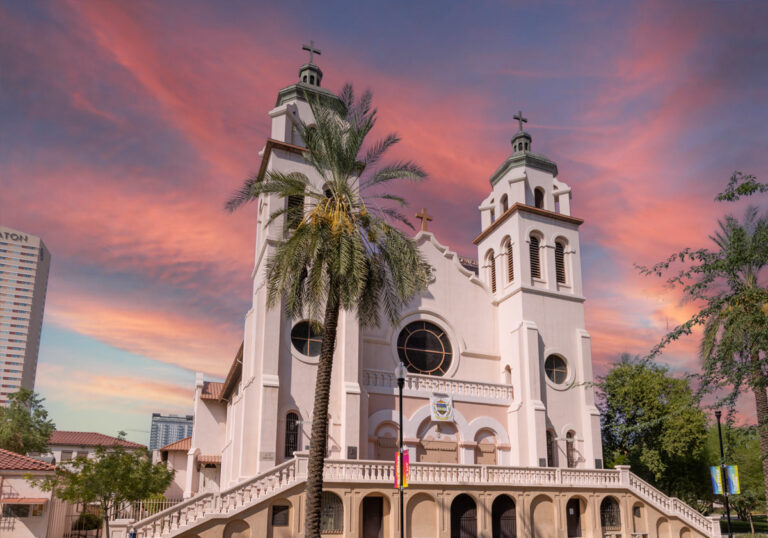 Our Environmental Policy
We are committed to promoting environmentally responsible practices across our organization. Our internal auditing program helps with our compliance with environmental laws and regulations, while our standardized third-party auditing approach provides an unbiased evaluation of our environmental impact.

Our responsibility to the environment extends beyond mere compliance, as we actively work to reduce waste and conserve resources in all business areas. We have implemented a waste minimization plan and are actively exploring innovative solutions to minimize our environmental footprint.

At Cordia, we recognize the critical importance of environmental sustainability and are committed to leading the way toward a cleaner future.
---
Greenhouse gas emissions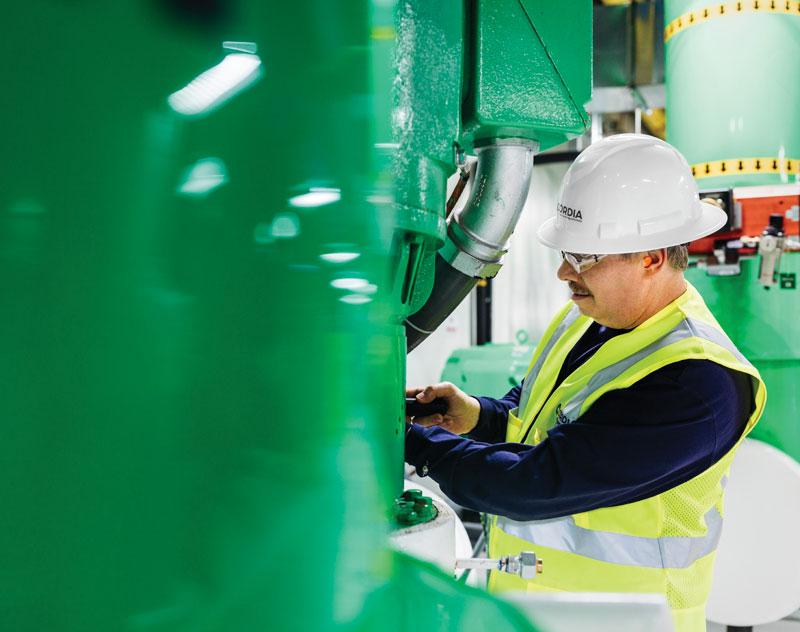 Pathway to Net-Zero: Cordia's Commitment to Reducing Greenhouse Gas Emissions
At Cordia, we are committed to reducing our carbon footprint and contributing to a more sustainable future. Our initiative focuses on creating and implementing projects, goals, and initiatives that make annual progress toward our long-term goal of achieving net zero emissions by 2050.

Through this initiative, we are taking proactive steps toward reducing our carbon footprint and demonstrating our commitment to corporate sustainability. In addition, our team is dedicated to continuously evaluating and improving our approach to GHG emissions reduction to achieve our ESG goals.
Our approach
Our approach includes identifying GHG reduction projects in each market, setting intermediate goals for long-term ESG achievements, tracking decarbonization progress, and establishing baseline carbon footprints and accounting methodologies. By monitoring our progress annually and regularly assessing our impact, we can identify areas for improvement and make informed decisions about decarbonization projects. Our commitment to transparency and accountability is demonstrated through our commitment to ongoing measurement and reporting of our carbon footprint.
Key ACtions
To achieve our objectives, Cordia has established the
following critical actions:
Establish baseline carbon footprint for Cordia fleet
Establish KPIs and carbon accounting methodologies
Set intermediate goals to achieve NZE by 2050
Evaluate and recommend decarbonization
technologies​
2022 GHG Emissions
GHG Emissions
Includes all facilities owned and/or operated by Cordia
Scope 1 emissions estimates include:
Onsite fuel consumption
Vehicle emissions
Refrigerant losses
Fire suppression system losses
Scope 2 emissions estimates include:
Purchased electricity
Imported heating and cooling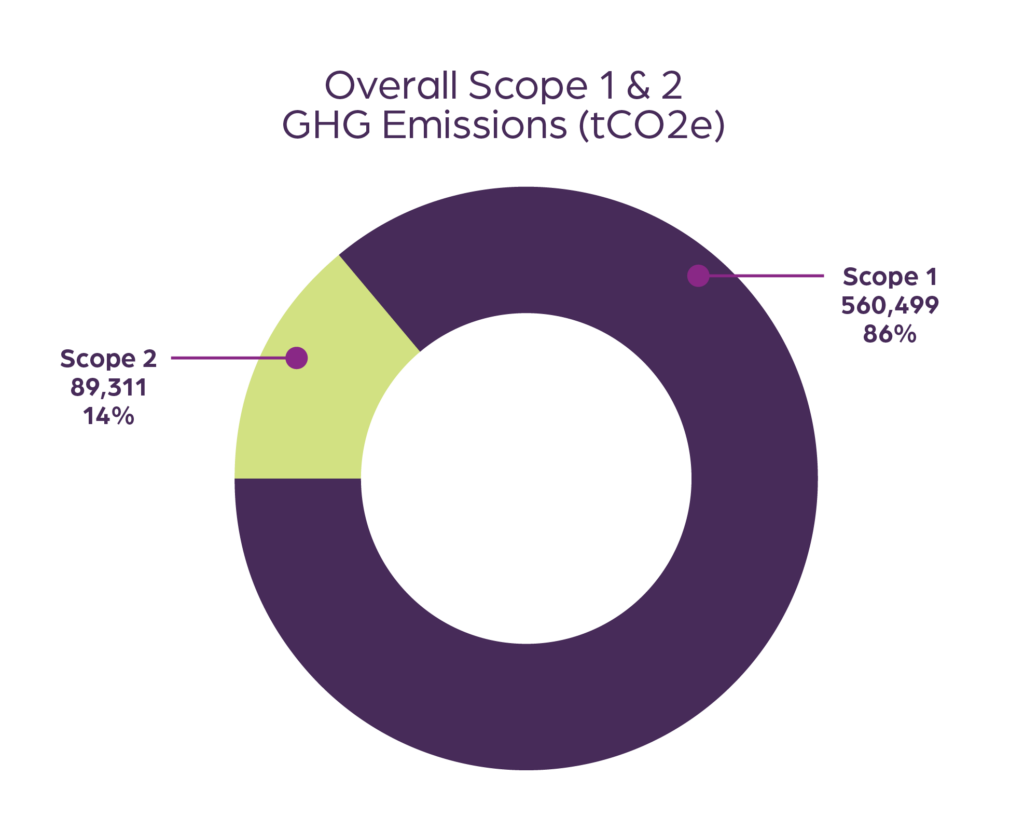 GREENHOUSE gas Reduction initiatives
The following are some examples of our current and planned greenhouse gas reduction initiatives:
Current initiatives
Combined heat and power installed at six plants
Renewable electricity used at multiple plants
Electric boilers installed at two Energy Center Omaha plants
Replacing engine-driven chiller with electric-driven chiller at Energy Center Minneapolis
Optimizing equipment dispatch and operation to improve efficiencies
Future initiatives
Energy Center San Francisco is planning to install two 25 MW electric boilers to provide up to a 50% carbon reduction by 2030
Implement geo-exchange heat pump systems for new development projects
Replacement of steam and gas-driven equipment with electric-driven equipment at multiple plants
Use of renewable natural gas for district heating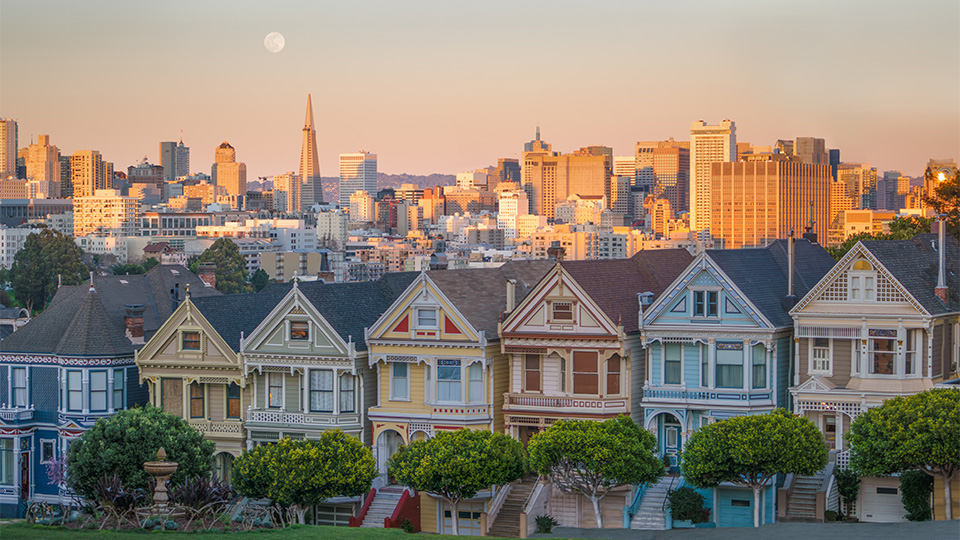 Reduced Carbon Steam in San Francisco
Cordia expects to produce reduced carbon steam, providing up to 50% carbon reduction, to meet San Francisco's goal to De-Carbonize Downtown buildings by 2030.
The Challenge
San Francisco's new legislation requires businesses to procure renewable electricity by 2030 and eliminate the usage of natural gas
Cordia's Energy Center San Francisco (ECSF) district energy system utilizes natural gas boilers to service 180 customers in Downtown San Francisco
The Solution
ECSF is working on a partnership with the SFPUC to de-carbonize the thermal energy supply to ECSF customer buildings beginning in 2026
ECSF will team with the SFPUC to permit, design, and construct a 50- 75MW substation on or near ECSF plant location that will be owned and operated by the SFPUC
ECSF will install two 25 MW electric boilers, with the capability of serving the majority of its customer requirements
The Result
Future alternatives for heating in San Francisco
Electric upgrades and multi-million-dollar cost savings for each of our 180 customers
Electric upgrades for the Downtown San Francisco electric grid
Cordia's San Francisco system would be the quickest and lowest-cost alternative heating option in comparison to traditionally electrifying each building separately
---
Renewable Electricity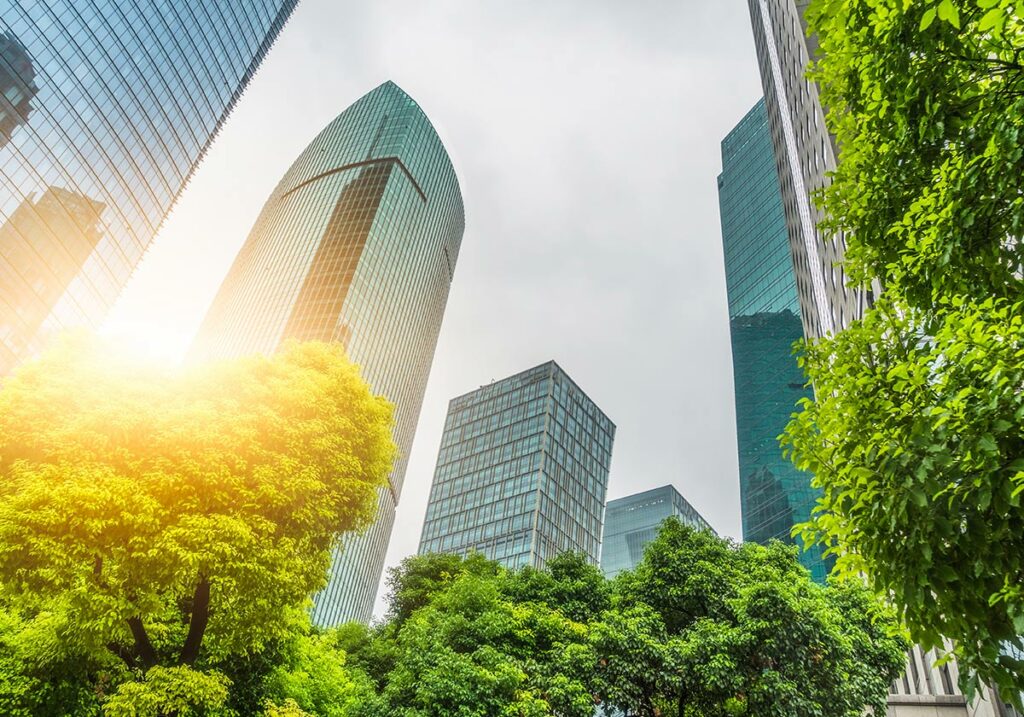 Powering Our Future with Renewable Electricity Sources
Cordia recognizes the urgent need for all businesses to take bold action to address climate change. We believe investing in renewable energy sources is not just an ethical obligation but also a wise business decision that benefits our customers, stakeholders, and the planet.
Our initiative to explore and purchase renewable electricity, such as solar and wind power, reflects our commitment to reducing our indirect carbon footprint and contributing to a sustainable future. We are proud to be a leader in the industry and hope to inspire others to join us in this critical effort to protect our planet for generations to come.
Our approach
As part of our ESG goals, we've implemented an approach to renewable electricity by exploring the purchase of solar and wind power to drive our chillers and significantly reduce our Scope 2 greenhouse gas emissions.
Our stakeholders, including investors and customers, prioritize sustainability, and by purchasing renewable electricity where available, we are actively reducing our indirect carbon footprint and demonstrating corporate social responsibility. Our team continuously evaluates and improves our approach to renewable electricity to achieve our ESG goals and build a sustainable future.
Key ACtions
To achieve our objectives, Cordia has established the
following critical actions:
Assess our carbon footprint and the impact of existing utility power purchases
Identify utilities that offer green power options to customers and renewable power availability
Identify renewable power availability in our communities and roll out purchase options of renewable power to customers across the fleet
Maximize renewable power purchases where feasible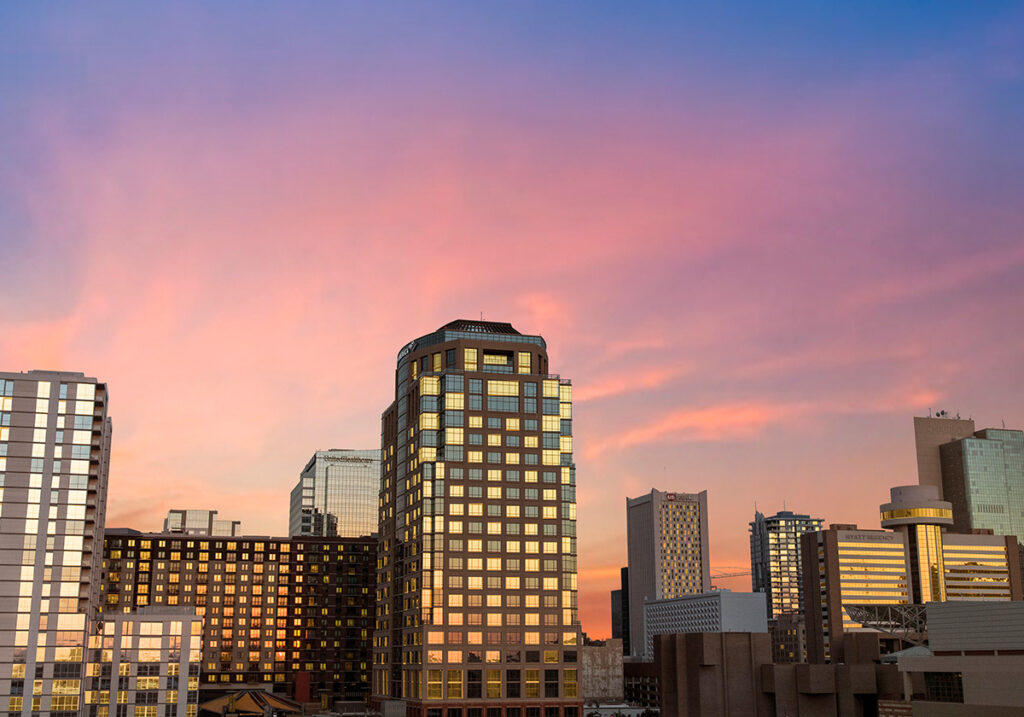 Renewable Electricity Initiatives
As a company, we have deployed renewable power at multiple locations and seek to expand this conversion to renewable power elsewhere. Some examples of where we are currently using renewable power:
Current Initiatives
San Francisco, CA
Purchased power is 50% renewable electricity
Minneapolis, MN
Multiple chilled water plants powered by renewable electricity
Princeton, NJ
203 kW of on-site solar generation
Future Initiatives
Phoenix, AZ
New plant 4 will be powered by renewable electricity
San Francisco, CA
100% renewable hydroelectric power
Evaluations are in progress in Harrisburg, PA and other systems across the fleet.
Cordia phoenix — Plant 4
Meeting Growing Chilled Water demand with 100% renewable power
Cordia Phoenix's new Plant 4 project exemplifies the company's commitment to environmental sustainability by constructing the new plant powered entirely by renewable electricity, addressing the growing demand for chilled water in downtown Phoenix. The strategic partnership with the University of Arizona (UofA) and the integration of renewable energy sources demonstrate Cordia's dedication to a greener future.
The Challenge
Due to new developments, Cordia will be facing future capacity constraints in its downtown Phoenix Chilled Water System due to the addition of major future development projects
Projected growth indicated a demand for an additional 10,000 tons of chilled water capacity starting in 2025, necessitating finding a solution to accommodate the projected growth
The Solution
Cordia partnered with UofA to develop a new plant powered entirely by renewable electricity
Under a ground lease agreement, UofA provided Cordia with a perfectly suited land parcel as part of its Downtown Phoenix Biomedical Campus
The new plant will provide chilled water to UofA's planned buildings and future life science planned building developments at the Downtown Phoenix Biomedical Campus
The Result
Successful implementation would increase Cordia's capacity to meet downtown Phoenix's growing chilled water demand
The partnership with the University of Arizona continues to be strengthened through this project
Cordia's commitment to sustainability is exemplified by powering the plant entirely with renewable electricity, reducing its carbon footprint, and promoting a cleaner environment
---
Water conservation and quality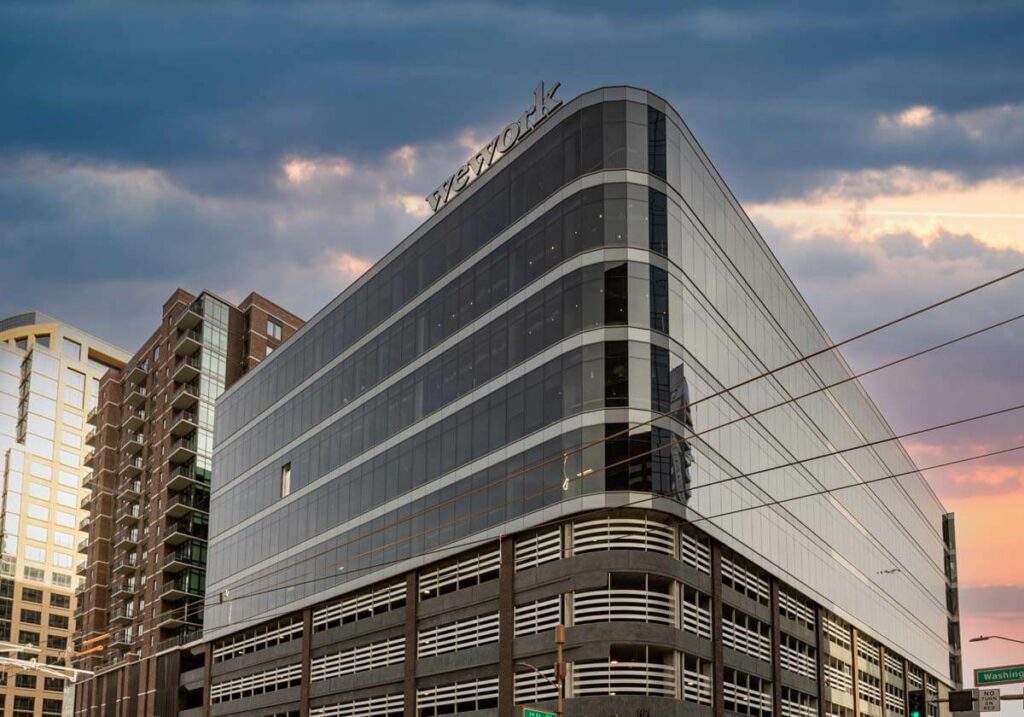 Sustaining Our Future: Cordia's Water Conservation Initiative
Cordia understands that being good stewards of the environment requires conserving water resources. As part of our commitment to sustainability and environmental stewardship, we have created an initiative to introduce and implement water conservation technologies across our fleet.
This initiative not only positions Cordia as a leader in water conservation in the industry but also prepares us for the possibility of increased water costs and future water scarcity. We are dedicated to continuously improving our approach to water usage and quality.
Our approach
Our approach to water conservation and quality maintenance is integral to our operations. We are actively exploring innovative technologies, particularly cooling tower solutions that dramatically reduce water demand and chemical usage, exemplifying our commitment to sustainability and environmental stewardship.
By establishing robust KPIs and targets, we are setting the bar high, aiming to surpass industry standards and guide our operations to achieve optimal water efficiency. We are poised to implement these innovative technologies by devising a comprehensive plan for adoption across our Cordia fleet.
Key ACtions
To achieve our objectives, Cordia has established the
following critical actions:
Evaluate water conservation technologies
Establish baseline water consumption for the Cordia fleet and set KPIs and targets
Establish a budget for water conservation projects and identify at least one location for the implementation of the new technologies
Implement new technologies within at least one plant and develop a plan to roll out superior technology at multiple facilities across the Cordia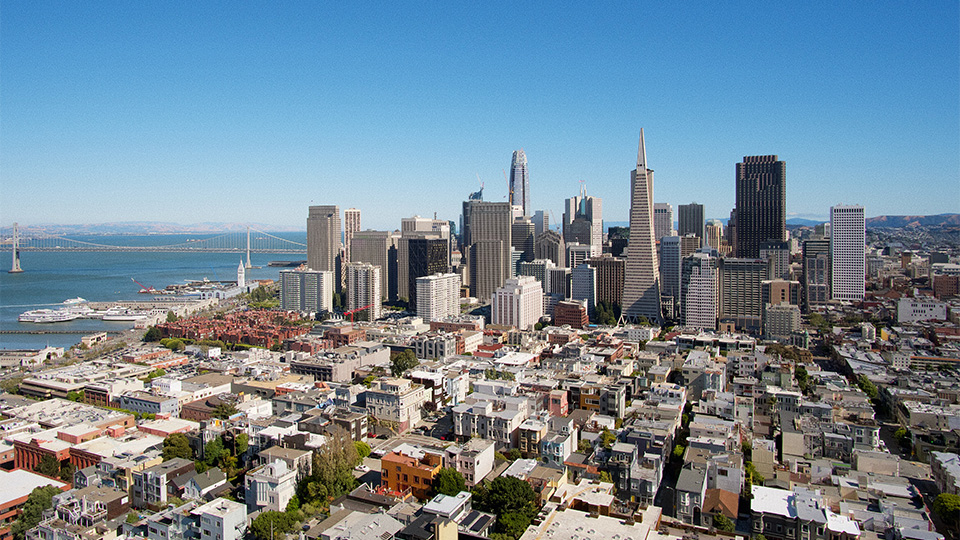 Water Conservation Initiatives
Much of the United States is experiencing record drought, and water scarcity is emerging as a major environmental issue, particularly in the Southwestern states. Cordia's water conservation initiative is focused on reducing our consumption of city water resources and seeks to minimize our consumptive use as boiler and cooling tower makeup.
Examples of water conservation projects Cordia has put in place include:
Installation of water conservation technology has allowed us to increase cycles of concentration in our San Diego chiller plant, which reduces total water consumption at the facility. Cordia is exploring the installation of this technology elsewhere in our fleet.
Capture and reuse groundwater drainage from the San Francisco subway system (BART).
Drilling wells and using non-potable water at numerous Cordia plants.
Distribution system improvements that increase condensate return and reduce makeup water demand.
In addition, Cordia is committed to being a good steward of water resources and is actively managing its operations to minimize water pollution discharge to streams, rivers, and bays where we operate.
Water Quality initiatives
Cordia is committed to being a good steward of water resources and actively manages its operations to minimize water pollution discharge to streams, rivers, and bays where we operate.
Examples of water quality initiatives Cordia has put in place include:
Monitoring its wastewater discharges so they will remain within permitted limits
Developing and following Spill Prevention, Control and Countermeasure plans so that spills are minimized and don't reach waterways where we do business
Performing regular inspections and emergency drills so all locations are prepared to respond to spills in the unlikely event they could occur
Following strict stormwater management policies focused on good housekeeping and storing all chemicals, fuels, and lubricants properly
The BART Water Reclamation Project
Cordia has decades of experience in providing San Francisco with resilient district energy services. We listen carefully to our customers and work with them to provide customized heating and cooling solution that suits their needs.
The Challenge
Propose a streamlined and cost-efficient treatment plan to recover 30 million gallons of groundwater per year.
Install a purification system with multiple steps to remove trash, dirt, biologicals, minerals, and chemicals.
The Solution
Collaborate with the City of San Francisco Public Utilities Commission (SFPUC), the Bay Area Rapid Transit (BART), and Cordia to transport water from the Powell Street Station to the Cordia plant via a newly-installed underground pipeline, then treat the water to levels of purity that would be boiler-grade, a much higher standard than regular drinking water.
Use an advanced front-end filtration plant, which integrates with the existing water softening equipment at Cordia and a new and innovative reverse osmosis (RO) treatment system.
The Result
Cordia financed the project on the balance sheet and self-performed the construction of the overall system.
This project reduced Cordia San Francisco's domestic water use by 30%.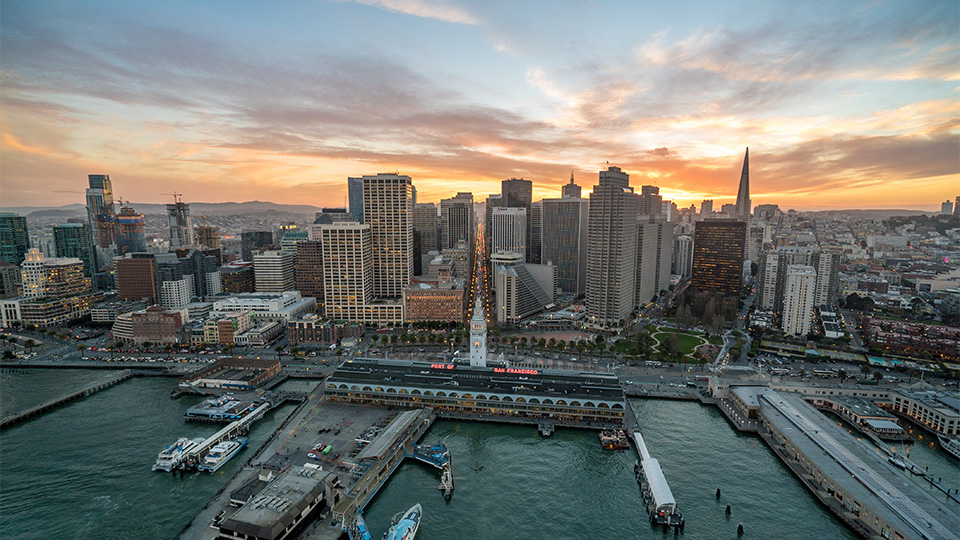 A word from our CEO and an overview of Cordia
Employees, DEI, social benefits
ELT, ESG governance, ethics, etc.